Paintless dent removal is a great option for those who have dings, minor dents, or even hail damage they want to have  removed from their vehicle.  Paintless Dent Removal (PDR)does not  need major body work, and generally you can have your vehicle back in as little as a day as compaired to several days to weeks with major body repair. The cost of paintless dent removal is also a good deal cheaper since the overhead  is lower. There are some circumstances where paintless dent removal isn't feasible. If you have a minor dent, ding or hail damage you want to have taken out, here are a few things to think about.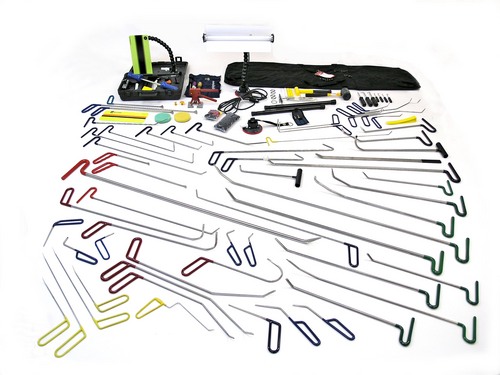 How It Works
At Caldwell's Paintless Dent Removal a skilled technician that has been taught to use specially designed tools will work on the dent locally. What this means a damaged door does not have to be removed. Generally they will gain access to the dent from the backside by going through a window opening or removing the door panel. The dent is then worked on from the backside of the panel, and pressed back out. It sounds easy, but it requires skill and patience. A Paintless dent removal technician needs to have experience so that they don't push to hard on the dent causing an the dent to stick outwards or damage the surrounding paint.
When Paintless Dent Removal is Feasible
Even some large dents can be removedusing paintless dent removal as long as the vehicle's paint has not been damaged. If you have had prior body damage repaired in the area, paintless dent removal may not work. Damage that is close to the edge of a panel are also very hard to repair using paintless dent removal. The most common use paintless dent removal are door dings, dents on the hood and/or trunk, or dents on the roof. Hail damage can be repaired using paintless dent removal, but it's a more drawn out process.
Benefits of Paintless Dent Removal
Paintless dent removal is beneficial for quite a few reasons. For one, it is approved by most insurance companies. What this means if you have a dent that is covered by auto insurance, you can get it repaired with paintless dent repair and get your vehicle back a lot faster. With  nothing being replaced , your vehicle will retain its value as well. The dent will not need to be repainted or have filler used in any way. When a vehicle is damaged and needs a panel to be repainted , it's very hard to match the color. Even if they use paint provided by the manufacturer, this doesn't allow for the wear the current paint job has, and can still stick out and be very obvious. The turnaround is also much faster. With conventional repair you may have to hand over your vehicle to the repair  shop for several days, or even weeks for larger repairs. Paintless dent removal can be done in just a couple of hours and you can get your vehicle back on the same day in a lot of cases. Of course you will want to contact us to see what kind of schedule the technicians have, as this could slow  up the repair  process a bit. If you have to pay  for the repair out of pocket you will take pleasure in savings with paintless dent removal over the cost of  conventional body repair.